Hello Kittens! This week I have a book that is making some headlines down south. Currently, a police union in South Carolina is protesting the inclusion of this book on a high school reading list. The Hate U Give by Angie Thomas has been on my TBR list for a while. I started hearing about it shortly after it came out and the cover was intriguing. It's coming to theaters in October and the first trailer that is out for it looks fantastic. This story is one of those that I struggle with as a Librarian, because the book and its story is so important, but I live where I live, so…it's a difficult choice.
Title: The Hate U Give
Author: Angie Thomas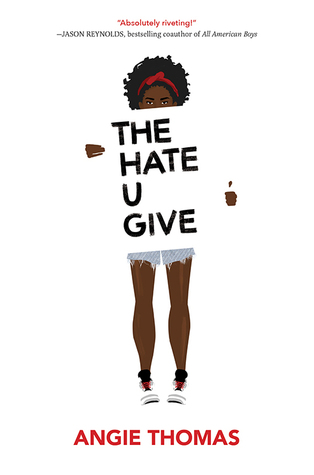 Author website: http://angiethomas.com/
Publisher: Balzer + Bray/HarperCollins
Publish date: 02/28/17
ISBN: 9780062498533
Buy the Book: Amazon, Barnes and Noble
The Hate U Give tells the story of a teenage girl named Starr Carter and the way her life changes dramatically when she witnesses the shooting death of her childhood friend by a police officer. As she struggles to deal with the death of her friend she is also confronting issues with her identity and her desire to support the activism in her community while maintaining her own security. She has a lot of difficult decisions to make in this book, decisions that no teenage girl should have to make. She is torn between the desire to defend her friend's memory, protect her family, and protect her identity. She faces threats that are very real as she prepares to speak her truth to the courts in the hopes of gaining justice for her friend.
The subjects that this book tackles are incredibly timely. There are some objections to this book out there, mainly they argue that it encourage distrust of the police. I don't see that argument being made in this book. I think Thomas managed to convey an honest evaluation of the feelings these incidents incite, both at an individual and a community level. A lot of the book is written in Starr's vernacular, and I will admit that I didn't quite get all of the references, although that could be my age. I was able to get the sentiment even if I couldn't connect all of the dots.
The writing is strong and I think any judgments that are made are balanced. Ultimately, I just think this book is important. It reads as hauntingly real. I think when the film version comes out, the response is going to be visceral.
Disclaimer: Not needed. I got this book from my library.
My rating:
2 glasses of lemonade= a book that you could probably recommend to family and close friends.  They may not like everything that's in it, but they're not going to start sending you cards with holy scripture written in them as messages to get you back on the path of righteousness after reading them either.
Let me be clear here, I LOVED this book. I gave it 5 stars on Goodreads. I think that everyone should read this book. That being said, from a professional point of view, there are people in my community who would be outraged to read anything that suggests that not all police officers are without guilt in these circumstances. Also, there was a fair amount of cursing throughout the book.