Hello Kittens! This week I've got a treat for you in Rebecca Serle's The Dinner List. We've all pondered the question of who we would like to have dinner/a conversation with, dead or alive, but most of us have probably not had those people show up to our birthday dinner. The concept on this one was original and there were plenty of emotional twists to keep the story moving at a good pace. This one is great for those who enjoy an emotional read with protagonists in their 30s…and also fans of Audrey Hepburn (are there non-fans of A.H.? Is that even a thing?). You've got a bit of a wait until this one gets published in September, but go ahead and add it to your TBR list now.
Title: The Dinner List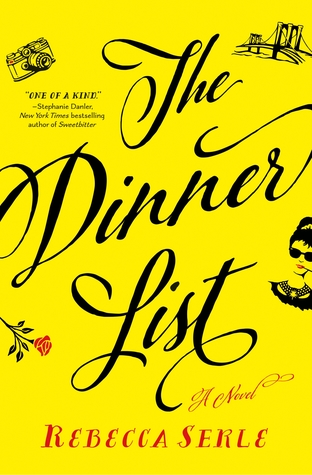 Author: Rebecca Serle
Author website: https://www.rebeccaserle.com/
Publisher: Flatiron Books
Publish date: 09/11/2018 (projected)
ISBN: 9781250295200
Buy the Book: Amazon, Barnes and Noble
To be honest, I first fell in love with the concept for this book. The main character, Sabrina (yes, like that one), makes a list of people she would want to have dinner with, dead or alive, at the urging of her best friend Jessica. She doesn't think much about it, really just doing it to keep Jessica from forcing her to make a dream board, but then, several years later, she enters a restaurant for her 30th birthday, expecting to see only Jessica, and is surprised to see an extra 4 guests. Seated before her are her ex-fiancee, her deceased father, a beloved former professor, and Audrey Hepburn. I immediately made my own list, just in case.
What follows is an emotionally fraught story about love, forgiveness, and growing up. Over the course of the night, the story of why all of these people have gathered here is revealed, with chapters rotating between a decade in the past and the current dinner. The story of the dinner party is equally as interesting as the retelling of the past, in fact, at times it reads like two completely different books, which could be jarring for some readers. I thought the story was taking a predictable course, but then a surprise twist about ¾ of the way through absolutely changed how I viewed everything about the main subplot regarding Sabrina and her ex, Tobias. By the end, it was late at night and I was in tears. It was just that good.
Comparisons have been made between this book and Stephanie Danler's Sweetbitter, but I think this story was a little less obtuse than Sweetbitter was, which for me made it a more pleasant read. The Dinner List has a writing style that is introspective, but fairly simple, which leaves it open to a wide audience. For those readers who have never experienced magical realism before, I think this would make a great introduction.
Disclaimer: I received an advance reader copy of this book from the publisher through BookishFirst in exchange for an honest review.
My rating:
4 glasses of lemonade= a book you could recommend to a book group or anybody who reads.  You might find controversial subject matter, but it is handled delicately.
For The Dinner List, there are a few bedroom scenes. Nothing too steamy, just your now-somewhat-typical 20s relationship.