Hello Kittens!
I have for you this week a novel of psychological suspense from an established author.  This one has been out for a little while and it has been stalking my TBR pile for months. I don't remember a lot of fanfare when this one came out, but a few blogs mentioned it and I saw it in a few of the trade reviews and I am so glad that I gave it a try.  It gave me goosebumps, and I had to put it down at one point because I started hearing noises around the apartment (it was my cat, the scamp).  Enjoy!
Title: The Marsh King's Daughter
Author: Karen Dionne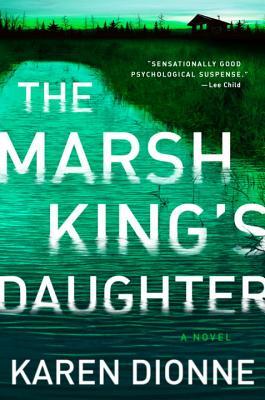 Author Website: http://www.karen-dionne.com/
Publisher: G. P. Putnam's Sons, New York
ISBN: 9780735213005
Release Date: June 13, 2017 (hardback)   April 17, 2018 (paperback)
Genre: Psychological Suspense
Buy the Book:  Amazon    Barnes and Noble
The Marsh King's Daughter will appeal to those of you who love stories that feel like they were ripped from the headlines. I can remember staying glued to the television when they found Jaycee Dugard, and this story fed that inner desire to know as much about these types of kidnappings as possible. Our narrator for this story is Helena Pelletier, and at first glance she seems like a reserved but otherwise normal wife and mother living in Michigan's Upper Peninsula, but this is a woman who is keeping secrets from everyone. Helena is enjoying a day out with one of her daughters when she hears news that would be welcome to most people: her father is in town. The problem is that she receives this news via a radio alert because her father has just escaped from a maximum security prison where he is serving a life sentence for crimes committed against Helena and her mother.
The authorities are desperate to find her father, but so is Helena, so she can send him back to prison herself. As she hunts him through the swamps of the Upper Peninsula she will confront her conflicted past relationship with the man that most of the world views as a monster. Think of this story as Emma Donoghue's Room with an adult narrator and several adventure sequences.
Helena is a gripping character and the ways she attempts to rectify her former life with her current one will keep you engaged throughout the story. There is a fair amount of space spent describing the natural characteristics of the swampland that could read a little dry if it's not your thing, but it definitely helps the reader get into the proper desolate mindset.
This is a solid story with a plot that could be off-putting to some and absolutely gripping to others. You may think you have it all figured out, but Dionne throws in the perfect number of plot twists all the way to the end and Helena is a far more complex character than it at first appears.
No disclaimer:  I got this one from my local library and you should too!
My rating:
3 glasses of lemonade= a book that you could recommend to coworkers and friends you don't know very well.