Hello Kittens! This is my first Sci-Fi recommendation for the site. Part of my goal with this site was to motivate myself to read genres that I don't normally engage with, and Sci-Fi is one of those genres that I didn't think I liked. I heard about this book on the All the Books podcast from Book Riot and requested it from my library. It's been out for a while, but the rest of the series is upcoming.  As I was reading it during my lunch break, I found out that not one, but two, of my co-workers had recently finished the book and also loved it. If there is someone in your life who doesn't think they like Sci-Fi, then this is the novella for them. Best of all, the entire series will be published by the end of the year. The second book, Artifical Condition, is already out, with Rogue Protocol (#3) expected in August, and Exit Strategy (#4) expected in October.
Title: All Systems Red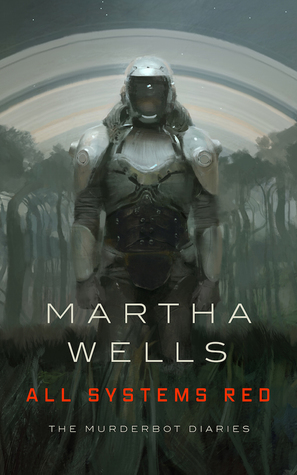 Author: Martha Wells
Author website: http://www.marthawells.com/
Publisher: Tor.com
Publish date: 05/02/17
ISBN: 9780765397539
Buy the Book: Amazon, Barnes and Noble
All Systems Red is the first book in the 4-book Murderbot Diaries series. It chronicles the adventure of a security robot who has renamed itself Murderbot, who has hacked its protocols after a traumatic event and is acting in secret as a free agent. Set on a distant planet and featuring an expeditionary crew of scientists, this story starts with a bang and the pacing doesn't let up throughout the story. There is intrigue, secrecy, corruption, and sabotage.
Wells doesn't spend a ton of time on world-building in such a slim book, and that makes for an incredibly exciting story where the reader's imagination is free to fill in the gaps. Murderbot breaks free from the system that controls its every move but has to hide in plain sight, never revealing its liberated abilities to the humans it is providing security for in an effort to avoid the scrap heap. When things on their mission begin to go dangerously awry, Murderbot is left with no choice but to open up a little in order to keep these humans alive. There are forces on this planet that mean them harm, and no one's entirely sure who to trust. Murderbot knows its only choice is to keep these humans safe until they can all get off this planet ASAP.
You experience the entire story within the mind of Murderbot which can come across cerebral at times. While the reader is unlikely to forget at any time during this short plot that they are dealing with a non-human protagonist, the character's development endears Murderbot to the reader. The pacing is so quick that there is no chance to anticipate any of what is going to happen next, so readers who always think they've got the plot figured out will enjoy the challenge of this storyline.
Bottom line: This was short, sweet, and unexpected. I will definitely be using this one as a recommendation for my Sci-Fi enthusiast patrons from now on. I will be picking up the rest of this series throughout the year, and I will be trying some additional Sci-Fi and Fantasy authors over the next few months. I love a book that changes my mind. Well done, Murderbot.
Disclaimer: Not really needed this time. I got this book from my library.
My rating:
5 glasses of lemonade= you could recommend this book to anyone.  There is nothing in here that is going to upset anyone and you could start handing it out on street corners.  (This kind of book is a Librarian's dream.  As much as we love good literature, suggesting a book for someone can be nerve-wracking work that can backfire BIG TIME.)