Hello Kittens! As the mercury and the humidity hit their highest levels here in the South I thought it was time to get our internal temps rising as well. Which is why I have a steamy romance novel for you today. I Flipping Love You is a sexy romp set in the Hamptons that will have readers fanning themselves while dreaming about attractive men at the beach. There's heart to this story, but it's also got everything your average romance fan is going to love: mistaken identity, horrible blind dates, sex in public places, and genuinely lovable characters. Good luck staying cool while you read this one.
Title: I Flipping Love You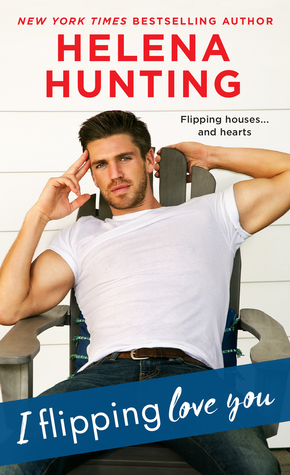 Author: Helena Hunting
Author website: http://www.helenahunting.com/
Publisher: St. Martin's Paperbacks
Publish date: 05/29/18
ISBN: 9781250183972
Buy the Book: Amazon, Barnes and Noble
Rian Sutter (pronounced like Ryan) and her sister Marley are out shopping for groceries when she meets an undeniably attractive man in a sharp suit, a man who seems to be tracking her throughout the store, a man who confronts her and begins yelling at her? In one of several deliciously funny mix-ups, this story starts off with a case of mistaken identity. Rian and her sister are hard-working entrepreneurs, trying to escape their family's sordid past, and rebuild a life while selling and flipping homes in the Hamptons. They are finally beginning to do well and start working towards some of their long-term goals, barring that little grocery store incident. But fate isn't done with Rian and Mr. Sharp Suit, Pierce, because he and his brother are buying, renovating, and renting homes in the area as well. As the Summer heats up, so does the chemistry between Rian and Pierce, but after being abandoned on numerous occasions due to her family history, Rian cannot open up to Pierce in the ways he wants her to. One thing's for sure, they have crazy chemistry that is obvious to anyone who sees them. You'll find yourself rooting for them all the way to the end.
I Flipping Love You is the third title in Helena Hunting's Shacking Up series. While you don't need to have read the first two books for this one to make sense, I understand based on reading the synopsis that at least one of the characters that appears in I Flipping Love You appears as a protagonist in the previous book. I have not read the other two and still managed to thoroughly enjoy this book. My one complaint about this book will barely register for most romance fans, but I'll state it anyway: there's not enough time spent in the book talking about flipping houses. That is supposedly a major point of the plot, it's even in the title, but there are no specific details in the book that lend weight to that. It reads as though someone who doesn't know much about construction set a book in that world.
That being said, the plot was still enjoyable. It moves at a decent pace and tension builds throughout. You won't find much in the way of surprises in the plot, with every revelation being teased a few chapters before, but the characters are so adorably flawed that you still anticipate how they are going to react to each other when it all hits the fan. Pierce is definitely the dream romance character: extremely attractive, wealthy, and a good guy, while Rian is also attractive (but unaware of it), determined, and sassy. You'll love them both as they come to love each other. This book was funny, a little sad at times, and constantly steamy. A winning combination as far as I'm concerned.
Disclaimer: I received an electronic galley of this title from the publisher through NetGalley in exchange for an honest review.
My rating:
1 glass of lemonade= a book that can only be recommended to someone whose reading taste you know well, like a best friend.  There may be a fair amount of curse words, spicy sex scenes, or potentially morally repugnant behavior.  This does not mean that the book is bad, just that the audience might be a little more limited.
Sex, sex, and more sex for this one, no real cursing or immoral behavior. Nothing wrong with any of that and it's typical of romances, but I still wouldn't be recommending this one to anyone but known romance fans.