Hello Kittens! This week's creepy tale should cool you off if you're mired in the heat like we are down South. This one gave me the major heebie-jeebies. I was reading it on a dark and stormy night and ended up yelping out loud when thunder clapped just as I read, "There was someone in the field." It was way creepier than it sounds, okay? I was actually in the middle of Our House by Louise Candlish when this library hold came in for me. It was perfect timing because I needed an emotional break from the characters in Our House. I ended up devouring this book in 3 days. This was my first title from Simone St. James, but I am officially a fan now, so I'll be looking for more from this Canadian author in the future.
Title: The Broken Girls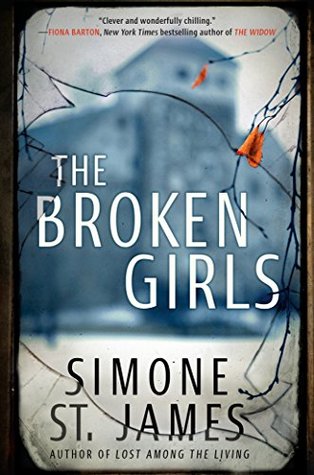 Author: Simone St. James
Author website: http://www.simonestjames.com/
Publisher: Berkley
Publish date: March 20, 2018
ISBN: 9780451476203
Buy the Book: Amazon, Barnes and Noble
From the first few pages, The Broken Girls draws the reader into a creepy world where something dark is stalking girls in the woods of Barrons, Vermont. This story follows the trend of the last few years of dividing its storyline between two time periods in the same place. We meet Katie, Roberta, CeCe, and Sonia in Barrons in 1950. All four girls are students at Idlewild Hall, a boarding school that takes girls who are unwanted by their families or other boarding schools. These are tough girls whose pasts are already haunted, but they are in for more of the same at Idlewild, because something sinister lives there too. "Do not let her in again!"
Then we fast forward to 2014 and meet Fiona Sheridan, a freelance journalist who has her own tragic history at Idlewild. The school was already closed down when the body of Fiona's sister, Deb, was found there, but it is no less haunting for her 20 years later. When Fiona learns that the property has been purchased and that the new owner intends to renovate the school and re-open it, she knows she has to act. So much of what happened to her sister is unresolved for Fiona, that she has to keep digging to figure out what happened, and she just so happens to stumble upon the rest of the story of Idlewild in the process.
All of these women have survived terrible things, but as the story vacillates between 1950 and 2014 all of their stories will come to a point, revealing many long-held secrets.
The pacing of this story was excellent, and the plot twists were superb. I truly had no idea how St. James was going to tie all of the threads together, but she did a wonderful job. It's difficult to pinpoint the real villain in the story, and there is an incredibly creepy ghost influencing the story throughout. The suspense in this novel was taut and the historical details added a new level of intensity midway through that kept the story moving when it might otherwise have stalled. It reminded me of…nothing. It was truly a unique read for me, and that was a very pleasant surprise.
Disclaimer: None needed. I got this title from my library.
My rating:
4 glasses of lemonade= a book you could recommend to a book group or anybody who reads.  You might find controversial subject matter, but it is handled delicately.
There are a few things that might trouble a reader in this story, namely, ghosts, rape, children born out of wedlock, grisly murders. Nothing graphic and not overly descriptive of the worst parts.