Hello Kittens! I have an intriguing read for you from British author Louise Candlish this week. Our House is Candlish's 13th novel and it comes out in just under two weeks. I'll admit that I struggled with this one originally. In fact, I became frustrated with the characters halfway through and took a break to read The Broken Girls. I came back to it and am really glad that I stuck with it until the end. I changed my mind to such an extent that I just put another of Candlish's titles on my TBR list.
Title: Our House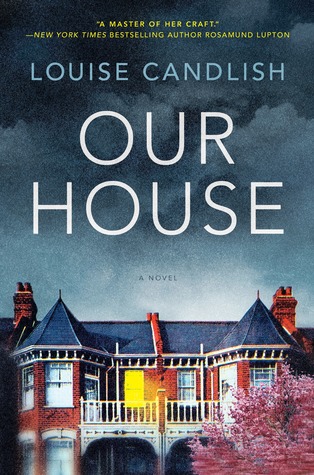 Author: Louise Candlish
Author website: http://www.louisecandlish.com/
Publisher: Berkley
Publish date: August 7, 2018
ISBN: 9780451489111
Buy the Book: Amazon, Barnes and Noble
Fiona and Bram Lawson are living an enviable life in a posh neighborhood in London with their two sons, Harry and Leo. At least, that's how it appears to outsiders. But, of course, there's more to this couple than meets the eye. Bram is a mild alcoholic with a roving eye and a moral compass that can't seem to find true north. When Fiona finally kicks him out, allowing for a generous custody arrangement known as a bird's nest, she puts the last bit of trust she can muster in Bram to the test. As she returns home from a weekend away and discovers a family moving in to her house, she cannot wrap her mind around how a mistake like this could have been made. As she learns about the real depth of Bram's betrayal of her family, she depends on family and neighbors to see her through the most difficult struggle of her life. It's easy to see this story as a condemnation of Bram, but nearly every character in this story ends up being severely flawed in one way or another.
The story begins at the end, just as Fiona begins to unravel schemes that have been building for months, and we spend the next 400 or so pages figuring it out with her. The story alternates between Fiona's and Bram's perspectives in the present day and the past. One unique feature that I really enjoyed was that the present-day Fiona is telling her side of the story on a popular podcast called The Victim, and the reader gets to experience the transcripts and online reactions to Fiona's story as it is told. This was the first story that I've seen take the phenomena around real-life suspense stories like Making and Murderer and Serial (plus so many others) and run with it. It was charming and added a new dimension to the story, because you got to see a fictional audience reacting to the story, asking some of the same questions that I was as a reader.
I struggled a little with maintaining a suspension of disbelief in the middle of the story as Bram's actions grow more despicable and desperate, while Fiona seems to be far too forgiving. I do not generally like stories that present women as weak and overly trusting of loathsome men for the sake of "love", as I think it normalizes that cycles of violence that so many women find themselves trapped in in real life, but this book was an exception. Before all is said and done, Fiona finds her strength, albeit in less-than-ideal ways. The ending redeemed this storyline for me, and I'll be trying additional titles from Candlish in the future. If you like suspense and some really vile characters, give this one a try.
Disclaimer: I received this title from the publisher through NetGalley in exchange for an honest review.
My rating:
4 glasses of lemonade= a book you could recommend to a book group or anybody who reads.  You might find controversial subject matter, but it is handled delicately.
The main thing that stops this one from the coveted fifth glass of lemonade is the presence of some cursing and the death of a child.