Hello Kittens! Sometimes I Lie is one of those books where I thought I knew what I was getting into before I even opened the cover, but the reading experience ended up being completely different from expectations. This title was everywhere for a while and it has been out for some time now, so I am extremely grateful that no one ruined the plot twists for me. This is a twisty plot with an unreliable narrator who will have you guessing what is real many times before the end. For fans of modern psychological suspense, this is a definite must-read and I wouldn't be surprised to see this story transformed for the screen sometime in the next few years.
Title: Sometimes I Lie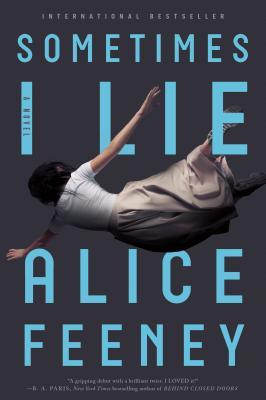 Author: Alice Feeney
Author website: https://www.alicefeeney.com/
Publisher: Flatiron Books
Publish date: March 23, 2017
ISBN: 9781250144843
Buy the Book: Amazon, Barnes and Noble
Amber Reynolds is 35-years-old, is married to Paul, and is in a coma. Thus this book starts off with the first twist from the very first chapter. The reader will follow Amber backwards in time, unraveling the lost memories of what led to her coma along with flashes from her childhood which help the reader get to know who Amber really is. Amber is in a coma, aware of everything that is going on around her but unable to move and unable to remember how she got in this situation. Her husband, Paul, and her sister, Claire, are frequent visitors in her hospital room, and Amber believes she has reason to fear them both…if only she could remember why. Lastly, a mysterious visitor who she can't identify is sneaking in and out of her room whispering sinister things in her ear…if he is real and not one of her dreams that is.
As you read, you won't know who to trust. Did Paul hurt Amber? Did he cheat on her? Why is Amber afraid of her sister? Why does her childhood factor into this? Is Amber guilty of cheating? What is real in Amber's life and what has she imagined and why? Who is the mystery man in her room? Did Amber bring this on herself? I loved how much tension the dream sequences in this book built up. Just when you think Amber is remembering something significant, you discover that she is dreaming, but her dreams are all significant, with specific takeaways. The ending weaves all of these differing pieces together and answers so many questions. It was highly satisfying in that respect.
Sometimes I Lie is the debut title from writer and journalist Alice Feeny. Considering how much buzz I have been hearing about this book for the past several months, I was surprised by how slowly it started off. There are a lot of important foundation points that are built in the first several chapters, but there are so many competing narratives, and with an unreliable narrator who can't trust herself to parse out what is real and what is not, it can be a little tedious for the reader. That being said, even now, several hours after having finished the book, I am still doubting that I understand everything that happened in the end. I have seen some people compare this book to Gone Girl, and I can see that in the sense that it almost reads as though it were two different books. Half the book is spent positing potential theories of what is going on, and the other half is spent allowing the mind to unwind the truth that is stranger than fiction. An extremely engaging ending, and a very promising start from this writer.
Disclaimer: Not necessary. I waited so long to read this one that I was able to get it from my library.
My rating:
2 glasses of lemonade= a book that you could probably recommend to family and close friends.  They may not like everything that's in it, but they're not going to start sending you cards with holy scripture written in them as messages to get you back on the path of righteousness after reading them either.
There are definitely some disturbing scenes in Sometimes I Lie, including stalking, rape and murder. I know murder isn't generally mentioned when it comes to thrillers, being somewhat expected, but the murders in this book were a little ghastly. While the writing is strong, the content could make some uncomfortable. Keep the recommendations on this one to those whose reading preferences you know well.