Salutations Kittens! I've got a real treat for you this week with Sandie Jones' The Other Woman, which takes a new look at the doomed relationship suspense trope. As the main character deals with a devious future mother-in-law, readers will cringe through every marriage rite-of-passage in this gripping read. I loved this title because I really couldn't figure out these characters and there were several sub-plots that added complexity to the story and kept me guessing. This title had a little violence and a curse or two, but overall, I think this is a title that is going to be getting a lot of attention (it would make a great movie) and could be pretty widely recommended.
Title: The Other Woman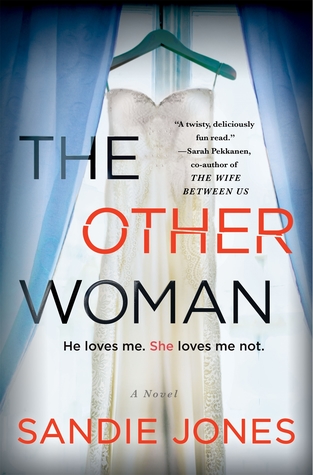 Author: Sandie Jones
Publisher: St. Martin's Press
Publish date: August 21, 2018
ISBN: 9781250191984
Buy the Book: Amazon, Barnes and Noble
Meet Emily. Emily is a young professional living and working in London. She's had a lot of jobs over the years, but has finally found something that she loves in recruiting. As she is finishing up a particularly useless professional conference, she escapes to a nearby bar and runs into an intriguing man named Adam. At first she thinks he's a rude, entitled jerk, but he works to redeem himself and ends up calling her a few days later.
The relationship proceeds smoothly from there and Emily starts thinking about Adam's long-term potential. She is so excited when Adam takes her to meet his mom, Pammie. Emily stresses over what to wear and she and Adam have a little tiff on the drive over, so her nerves are at a high when she finally meets his mother. Pammie seems like a dream. She is so kind, but every now and again, she says something a little off and Emily can't quite figure her out. As time goes on Emily begins to question whether Pammie is really as excited for their relationship as she wants everyone to believe. For instance, why does Pammie show Emily a photo album that includes a picture of Adam's last serious girlfriend in it? That was an accident, right?
That is only the beginning. Emily starts to think that all of the disasters and fights that she and Adam go through have Pammie at the heart of them. He just can't see his mother the same way that Emily does. As the relationship progresses, Emily becomes increasingly suspicious of Adam's mother. Can Emily claim her rightful place in his life when his mother is constantly intervening? Who will win the battle for his heart and what will be lost in the ensuing war between the women.
I thought that I knew where this title was going, but I fully admit that the ending through me for a loop. I spent some time frustrated with character of Emily, because she started off as such an independent and seemingly tough cookie but then she crumbles in the face of Adam's misdeeds and flippant treatment of her feelings. I don't particularly enjoy reading about weak female characters, but Emily's back and forth with forgiveness and paranoia was definitely draining at times. I found myself wondering, "Why doesn't she just leave? He can't be worth all that." For the record, I stand by that sentiment. If you're reading this and a man treats you the way Adam treats Emily, leave him.
I appreciated the number of subplots that acted as red herrings. It seems like in the current suspense climate, you can't assume that someone is dead just because everyone believes they're dead, and I admit to wondering if that was the scenario with this title or a while. I usually obsess over all of the possible ways that a story could end if such-and-such character wanted revenge for something or if there's someone from the protagonist's past who changed their name. With this story, I suspected everyone. Pammie, James, Charlote, and even Emily's good friend Seb. I also loved that the reader's first exposure to the story is that very creepy prologue. I assumed when I got to the end of the story that it would circle back around to that moment exactly, but in fact it references a moment about ¾ of the way through the book, so that plot point might not have the oomph that it might have otherwise.
Overall, the story is one that I think most suspense fans will enjoy. I'll be recommending it to patrons once our library gets a copy in.
Disclaimer: I received a copy of this book for free from the publisher through BookishFirst in exchange for an honest review.
My rating:
4 glasses of lemonade= a book you could recommend to a book group or anybody who reads.  You might find controversial subject matter, but it is handled delicately.